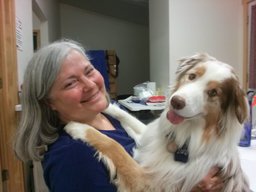 Julie Ann Marie is a Telepathic Communicator, Spiritual/Energy Healer, Intuitive, Medium/Psychic, and Shamanic Practitioner located in Madison, WI.
Julie has been communicating with animals her entire life. She has listened to thousands of animals share the love and connection they feel for their human companions. She finds that they are happy to communicate and want to deepen the partnership with their people. During a session, Julie and her Spiritual support team hold a safe, Divine Space. She finds that holding an open heart to truly hear each other's feelings and perspective leads to hope, possibilities and resolution.
"I grew up on the western shores of my beloved Lake Michigan, and near the city's free zoo. Being near the water and all of the animals, and anywhere in nature, is where I have always felt HOME.
I always had the knowing that one day, I would swim in the ocean beside the great whales. Forty years later, I was inconsolable over the loss of my Golden Retriever, Alta. A friend asked me if I had ever heard of Penelope Smith, the grandmother of animal communication. I went to her website. The main page had the photo of a lone snorkeler floating next to a humpback whale. Without a doubt I knew that I was going on the whale trip. To go on the spring 2003 whale trip, I needed to take a Basic Course in How to Communicate with Animals. Penelope's site listed communicators worldwide. Was there anyone in Wisconsin? Asia Voight, in Stoughton, WI was listed and she was having a class in less than a month. I signed up for both that same day.
Thus began my journey of returning to telepathy. Alta had led me to the door back to my Self. "
-Julie Ann Marie
Julie does not work with lost or stolen animals.

If you need assistance contact us.
Fees
Appointments with Julie Ann Marie are 30 minutes or 1 hour in length and include an mp3 recording. The recording will be emailed to you the day after your session.
| No. of Animals | Appt. Length | Cost |
| --- | --- | --- |
| 1 | 30 minutes | $110 |
| 1 | 1 hour | $210 |
| 2 | 30 minutes | $140 |
| 2 | 1 hour | $210 |
| 3 | 30 minutes | $170 |
| 3 | 1 hour | $240 |
| 4 | 1 hour | $270 |
| 5 or more | Please contact me. | |
For emergencies,
contact Asia.
Scheduling
Once a session is scheduled, payment is required to reserve your space. PayPal and Credit Cards accepted.

If you need assistance contact us.
Phone call and preparation
You will call Julie from a phone with reliably clear reception – land line preferred. Have only one person on the line and do not use a speaker phone. The phone number will be given to you when your appointment is confirmed. You and your animals should just be relaxing in your own routine spaces; you do not need to be together. It's a good idea to write down the topics you'd like to discuss. Our animals are very intuitive and understand a lot more than we may think, so be open to what your animal has to say!
Refund/reschedule policy
Cancellations with less than three days notice will not be refunded unless the spot can be filled.