When you and your pet collide, America's Animal Communication Expert Asia Voight shares tips on keeping the peace in your home.
Does your dog constantly want to sit on your lap? Does your Chihuahua take up half the bed at night? Is your Malamute just tall enough to rest his sloppy jaw on your kitchen table? Whether your 'big dog' weighs 100 pounds or only ten pounds, there may be times when you feel like your dog is taking over your life and home. Using physical discipline can further alienate your dog who is trying to be one of the family.
Often people try to stop their dog from barking by yelling at the dog. What is yelling to a dog? It's barking. By yelling at your dog to stop barking, you are only joining in on the fun and encouraging your dog to continue barking.
By learning to use energy and telepathic communication with your animal companions, you can change these challenging relationships. By opening your heart and using your energy to communicate with your dog, you can send your message without 'barking' back.
In the accompanying video, I share a tip on using energy to communicate more effectively with your animal companion.
Do you have a challenge with your 'big dog' at home or on the road?
Share your story or questions in the comments below.
I'd love to hear from you.
AND…be sure to subscribe to our blog updates for more stories and tips about understanding animals and how they communicate.
---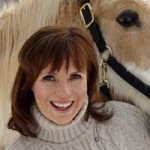 ASIA VOIGHT  is an internationally known Animal Communicator, Intuitive Counselor, Teacher, Inspirational Speaker, Radio Host and Author. Asia connects with animals on a soul level to help resolve emotional and behavioral issues and assists them in deepening their bond with their human companions. She also helps people to reconnect with their own intuition, healing ability, potential and life's purpose. Asia's work has been featured on ABC, CBS, NBC, and Fox TV as well as countless radio shows like Rick Lamb, Coast-to-Coast and Hay House. Connect with Asia on Facebook and Twitter.
Receive Asia's blog updates via email:
Delivered by FeedBurner