America's Animal Communication Expert, Asia Voight helps the Heartland Farm Sanctuary heal Eddie's grief.
Imagine experiencing the sudden death of your two best friends! In the attached video, I share the experience of Eddie the turkey who experienced profound grief after losing his two favorite hens.
Do farm animals have feelings? You won't have to wonder after hearing Eddie's story. His story and many more are experienced daily at the Heartland Farm Sanctuary where farm animals such as ducks, goats, sheep, roosters, and yes, turkeys, have a safe place to recover from trauma and enjoy life.
Through many years of communicating with all types of animals, I have learned that each has their own unique perspective on life. Yes, they have feelings and they matter! I love the Heartland Farm Sanctuary because their message of love and unity for these forgotten animals resonates deeply in my heart.
Sanctuaries like Heartland, and the animals they serve, need our help. Would you like to support Lola the pig, or Rosie the duck? Send an email to info@heartlandfarmsanctuary.org to connect with Dana Barre, the sanctuary's director for more information on how you can help these precious animals experience the joy of life. Visit their website at www.heartlandfarmsanctuary.org.
Have you had a special experience with a goat, cow or chicken?
Share your story or questions in the comments below.
I'd love to hear from you.
AND…be sure to subscribe to our blog updates for more stories and tips about understanding animals and how they communicate.
---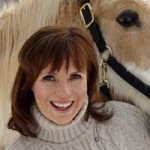 ASIA VOIGHT  is an internationally known Animal Communicator, Intuitive Counselor, Teacher, Inspirational Speaker, Radio Host and Author. Asia connects with animals on a soul level to help resolve emotional and behavioral issues and assists them in deepening their bond with their human companions. She also helps people to reconnect with their own intuition, healing ability, potential and life's purpose. Asia's work has been featured on ABC, CBS, NBC, and Fox TV as well as countless radio shows like Coast-to-Coast, Rick Lamb and Hay House Radio. Connect with Asia on Facebook and Twitter.
Receive Asia's blog updates via email: