My dog won't come when called.
My cat wakes me up in the middle of the night.
My horse won't move.
I am often asked to talk with a person's animal because they think the animal is doing something 'wrong.' The person has tried to make the animal stop and the behavior continues even after repeat visits to their Veterinarian and trainer. Often the animals are trying to tell us something with their behavior.
I remember a day when I was planning a nice trail ride with my friends. I saddled up my horse Rocket and asked him to walk. He wouldn't move. I tried using my legs and my seat. I tried using my voice to make him move, but Rocket stood solid. I finally came to my senses and asked telepathically, "Rocket, why won't you move?"
The answer came back clearly and taught me an important lesson in keeping the lines of communication open. "You forgot to tighten the cinch," said Rocket.
I looked down and saw that my cinch was hanging several inches below Rocket's belly. Had we started our ride, chances are I would have fallen and been injured. Rocket felt his obligation to protect me from harm and did his best to communicate the problem.
When we get angry or impatient with our animal companions and try to use force to make them 'obey,' we risk punishing them for trying to help us.
In the video accompanying this post, I offer a few tips on how to communicate with your animal companions when they seem to be doing something 'wrong.'

Share your story or questions in the comments below.
I'd love to hear from you.
AND…be sure to subscribe to our blog updates for more stories and tips about understanding animals and how they communicate.
---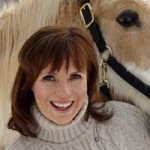 ASIA VOIGHT is an internationally known Animal Communicator, Intuitive Counselor, Teacher, Inspirational Speaker, Radio Host and Author. Asia connects with animals on a soul level to help resolve emotional and behavioral issues and assists them in deepening their bond with their human companions. She also helps people to reconnect with their own intuition, healing ability, potential and life's purpose. Asia's work has been featured on ABC, CBS, NBC, and Fox TV as well as countless radio shows like Rick Lamb, Coast-to-Coast and Hay House. Connect with Asia on Facebook and Twitter.
Receive Asia's blog updates via email:
Delivered by FeedBurner