Don't get mad, get help! America's Animal Communication Expert Asia Voight gives tips on helping your pet when potty habits get challenging.
Potty training can be a challenge for a new puppy, but what about an older dog whose peeing habits aren't what they used to be? Like human senior citizens, senior pets can develop problems holding their bladder function. It may be harder to get your physically challenged dog out the door in time!
My little Maltese dog Pearl is a senior pet and sometimes has challenges remembering where to go and when to go. Clear communication has become vital for us. Using animal communication helps both Pearl and I take the stress out of her potty habits. I frequently visualize in my mind where I want her to go potty whether it is on the grass outside or on a special absorbent pet pad in the house.
Keeping your energy positive is important in your communication. Letting your pet feel your disappointment or frustration with the potty routine won't help keep him motivated to try. Let your pet feel your excitement about his potty successes, and your forgiveness when he fails.
What happens when not even animal communication helps? In the attached video, I offer some tips on ways you can help your pet when you find yourself taking that trip outside more often than your schedule permits. From doggie diapers to pet pads, I'll show you examples I've found helpful.
Have you had a challenge, or a success, with your potty-challenged pet?
Share your story or questions in the comments below.
I'd love to hear from you.

AND…be sure to subscribe to our blog updates for more stories and tips about understanding animals and how they communicate.
---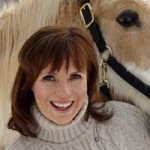 ASIA VOIGHT  is an internationally known Animal Communicator, Intuitive Counselor, Teacher, Inspirational Speaker, Radio Host and Author. Asia connects with animals on a soul level to help resolve emotional and behavioral issues and assists them in deepening their bond with their human companions. She also helps people to reconnect with their own intuition, healing ability, potential and life's purpose. Asia's work has been featured on ABC, CBS, NBC, and Fox TV as well as countless radio shows like Rick Lamb, Coast-to-Coast and Hay House. Connect with Asia on Facebook and Twitter.
Receive Asia's blog updates via email:
Delivered by FeedBurner