New puppies are soft, warm and cuddly.  They make us laugh with their silly antics and open our hearts in ways only puppies know how.  New puppies also need training to help them become the wonderful companion or helper we hope for.
I have spent 14 years taking lessons from very knowledgeable dog trainers and I have found that my ability to communicate telepathically with my dogs has helped bring the training methods I learned to a new level of effectiveness.
As a small child, I was naturally connected to my intuitive abilities and talked easily with the animals.  Puppies are like small children and naturally access their telepathic abilities.
Animals often communicate telepathically through pictures.  Is the picture you are sending your new puppy the same as the words coming out of your mouth?  If you are asking your puppy to walk calmly on a leash but you are thinking about your puppy pulling and yipping, which communication do you want your puppy to respond to?
Are you trying to train your new puppy? Find out how to visualize what you want your puppy to do for greater training success in this video.  I will give you tips on how to use mental pictures to assist you in taking your training time with your new puppy, or your older dog, to the next level.
Share your story or questions in the comments below.
I'd love to hear from you.
AND…be sure to subscribe to our blog updates for more stories and tips about understanding animals and how they communicate.
---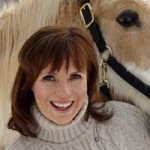 ASIA VOIGHT is an internationally known Animal Communicator, Intuitive Counselor, Teacher, Inspirational Speaker, Radio Host and Author. Asia connects with animals on a soul level to help resolve emotional and behavioral issues and assists them in deepening their bond with their human companions. She also helps people to reconnect with their own intuition, healing ability, potential and life's purpose. Asia's work has been featured on ABC, CBS, NBC, and Fox TV as well as countless radio shows like Rick Lamb, Coast-to-Coast and Hay House. Connect with Asia on Facebook and Twitter.
Receive Asia's blog updates via email:
Delivered by FeedBurner