Imagine lying in a hospital bed in Intensive Care. Needles are tapped to your arm and you can't move your legs. Are you feeling fear and anxiety about your future?
This is how I felt when, 25 years ago, I found myself in such a situation. I had been in a severe car accident and the medical professionals gave me a three percent chance to live. If I did live, I would be 98 percent disabled.
My inner self knew the prognosis had to be wrong. I called on my spirit guides, angels and the Ascended Masters for guidance. They told me it was my life's purpose and plan to be healed.  In a time of crisis, my ability to access this spiritual wisdom helped keep me from a spiral of depression and abandonment and allowed me to open the space for healing.
This same level of intuition is available to you in your time of need or crisis. In my case, the ability to access the guidance of my animals and spirit guides was literally a life saver for me. Though your situation may not be as severe, by learning to access your intuitive nature, you can ask for messages of healing and support from your animal companions, wild animals, or even animals who have passed.
My dog Makeba and my horse Rocket were there to help me through my long process of healing from the physical and emotional trauma of my car accident. Imagine being able to offer this same kind of support when your animal is sick, injured or suffering emotional distress. All this is possible when you learn to open your telepathic channels to send and receive messages of healing and love.
Share your story or questions in the comments below.
I'd love to hear from you.
AND…be sure to subscribe to our blog updates for more stories and tips about understanding animals and how they communicate.
---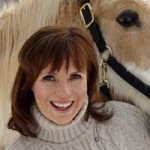 ASIA VOIGHT is an internationally known Animal Communicator, Intuitive Counselor, Teacher, Inspirational Speaker, Radio Host and Author. Asia connects with animals on a soul level to help resolve emotional and behavioral issues and assists them in deepening their bond with their human companions. She also helps people to reconnect with their own intuition, healing ability, potential and life's purpose. Asia's work has been featured on ABC, CBS, NBC, and Fox TV as well as countless radio shows like Rick Lamb, Coast-to-Coast and Hay House. Connect with Asia on Facebook and Twitter.
Receive Asia's blog updates via email:
Delivered by FeedBurner