Does your dog experience separation anxiety? Would you like to find a way to send your dog a text message while you are at work?  Your dog may not have a smart phone, but you can communicate with your dog even if you are thousands of miles away.  Because telepathic communication has no time or space limitations, you can communicate messages to your animal companions when you are away from home.
Imagine being able to check in with your dog at lunch time to say "I love you.  Mommy will be home in a few hours and you are safe."
Being able to connect with your dog in this way could save you hours of clean-up and save your dog from severe emotional distress which can contribute to physical illnesses.  With a quick, one-minute telepathic check-in, you can shift your dog from a frenzied fiend into a calm and happy companion.
In this video you will learn about the 'first language' of your animal companions.

Share your story or questions in the comments below.
I'd love to hear from you.
AND…be sure to subscribe to our blog updates for more stories and tips about understanding animals and how they communicate.
---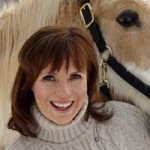 ASIA VOIGHT  is an internationally known Animal Communicator, Intuitive Counselor, Teacher, Inspirational Speaker, Radio Host and Author. Asia connects with animals on a soul level to help resolve emotional and behavioral issues and assists them in deepening their bond with their human companions. She also helps people to reconnect with their own intuition, healing ability, potential and life's purpose. Asia's work has been featured on ABC, CBS, NBC, and Fox TV as well as countless radio shows like Rick Lamb, Coast-to-Coast and Hay House. Connect with Asia on Facebook and Twitter.
Receive Asia's blog updates via email: