Differently-abled pets may need extra help feeling safe. America's Animal Communication Expert Asia Voight gives tips on picking your pet up safely.
Imagine being blind or hard of hearing and having someone sneak up on you and pick you up off the floor. You'd be startled!
My little Maltese Pearl is a senior pet who has had a stroke, is missing one eye and is hard of hearing. She has taught me the importance of recognizing when your differently-abled pet needs extra care, even in the simplest of things, like picking her up.
Before I pick up Pearl, I touch her side and send her the message that I will be picking her up. Knowing what is coming helps Pearl feel safe with me and lets us enjoy our time together. Though your dog may not be as challenged as Pearl, using communication to let them know what is happening can go a long way to making them feel honored and safe in their environment. Even a healthy pet can get scared if they are handled unexpectedly.
Teaching children to use these guidelines when dealing with any animal can also keep their interactions safe. A surprised dog or cat is more likely to bite than one who is handled with care and respect.
In this video, Pearl helps me show you tips on picking your pet up right.
Is your pet differently-abled?
Share your story or questions in the comments below.
I'd love to hear from you.

AND…be sure to subscribe to our blog updates for more stories and tips about understanding animals and how they communicate.
---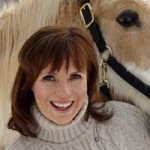 ASIA VOIGHT  is an internationally known Animal Communicator, Intuitive Counselor, Teacher, Inspirational Speaker, Radio Host and Author. Asia connects with animals on a soul level to help resolve emotional and behavioral issues and assists them in deepening their bond with their human companions. She also helps people to reconnect with their own intuition, healing ability, potential and life's purpose. Asia's work has been featured on ABC, CBS, NBC, and Fox TV as well as countless radio shows like Rick Lamb, Coast-to-Coast and Hay House. Connect with Asia on Facebook and Twitter.
Receive Asia's blog updates via email: